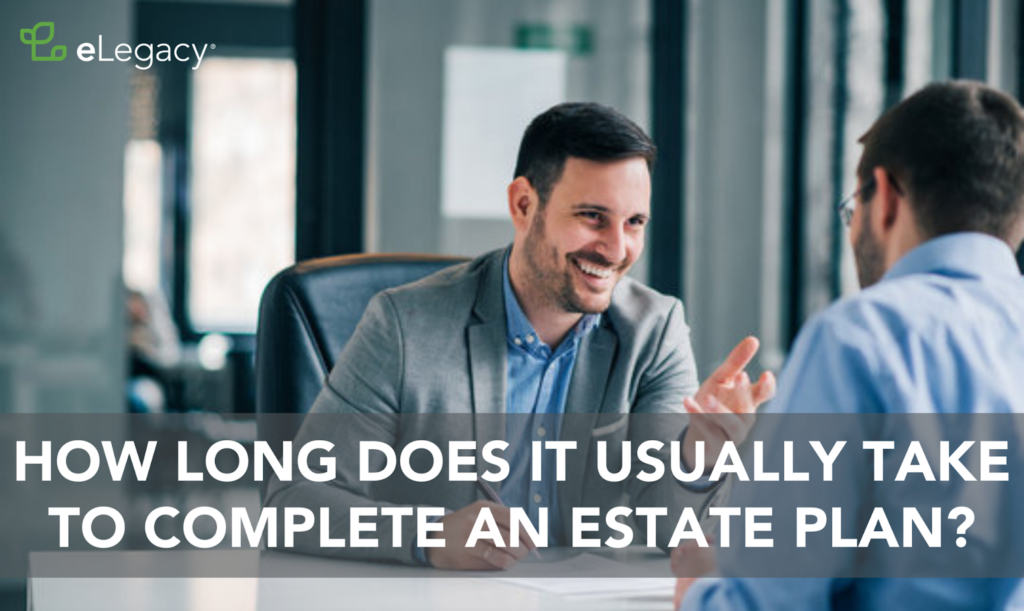 When people decide to finally "get their affairs in order" and create an Estate Plan, they can suddenly seem in a great hurry to get it done, even after years of putting it off! Accordingly, at eLegacy, one question we often get right up front is: how long will this process take?
Unfortunately, like so many questions you ask a lawyer, the answer is: It depends. But let's not stop there. In most cases, you can complete the estate planning process in about 90 days. Below is an explanation of the factors that go into the estate planning process when you work with eLegacy. By assessing these factors in relation to what you think your own Estate Plan will entail, you can get a pretty fair idea of how long it will take to get your Estate Plan completed and into place.
The Estate Planning Process
Let's start by looking at what is involved in the estate planning process at eLegacy.
The first step is for you to give us a call or fill out our contact form and then set up an appointment for a complimentary consultation. The consultation will be via teleconference, and we will discuss in some detail with you what you want to do with your Estate Plan. We will ask many questions that will help us get a fair idea of your family and financial situation and understand your goals. You are also welcome to ask us any questions about how we work and what documents and vehicles we can suggest or recommend as part of your Estate Plan. After we both have an idea about what will be involved in putting together your personal Estate Plan, we will quote you a flat fee for our services – that's right: one flat fee to cover it all without any surprises or hidden costs.
For the second step, if you decide to proceed with us, we will set up a design meeting. In this meeting, we will work with you to formulate and lay out all the details of your Estate Plan. If appropriate, we can also involve your financial advisor and accountant. Preparing for this meeting may require you to do a little homework to ensure we have addressed everything that is part of your plan. Based on your preferences, you will make some decisions. However, we will guide and advise you throughout the process, informing you of contingencies you may need to consider and how your plan will operate once it is in place.
Once the design meeting is complete, the third step is for us to begin drafting the legal documents involved. During this stage, there will be some communication back and forth to resolve any questions you or we may have about the details. You will receive a draft of the documents to review so that you may amend them or clarify issues. Rest assured that we will only consider a document final after you are completely satisfied.
The fourth step is when you sign your documents and have them notarized. At this point, your Estate Plan is in place! However, please note that, if you have a Trust-based plan, you will have an additional fifth step: funding your Trust(s), which entails putting title to these assets formally into the Trust(s) you have created.
Factors That Can Affect Your Estate Planning Timeline
The process outlined above is relatively straightforward. In most cases, going through this process will take about 3 months, depending on how focused you are on completing your Estate Plan. If there is a particular urgency for some reason, eLegacy may be able to work within a tighter timeline.
However, in unusual cases, the simplicity of the process itself can be belied by the complexity of what may be involved. There are sometimes circumstances under which putting together an Estate Plan can become more complicated – and, therefore, more time-consuming. For example, you may have an extensive estate with a lot of assets held in different ways, such as jointly, as community property, or as tenants-in-common with another party. In such cases, it may take longer to sort out how you want it allocated to best serve your interests. Or you may need to make some special arrangements for individual family members, such as a spendthrift Trust for a child or a care Trust for a spouse or child with special needs.
At eLegacy, while our process is essentially the same for all of our clients, the ultimate Estate Plan you end up with will be unique to you. You can rest assured that, whatever is involved, we will give your Estate Plan full attention until it is complete to your satisfaction, without delays or excuses. Just as we are upfront with our clients about our fees, we are upfront with our clients about our schedule, and we will stay in communication with you throughout the process.
If you are ready to get started with your Estate Plan, contact eLegacy today to set up a complimentary consultation. In just a few weeks, you can gain peace of mind knowing that you have taken care of your assets and your loved ones long into the future.